The Hague: Guided Sightseeing Tour by Bicycle - Bike rental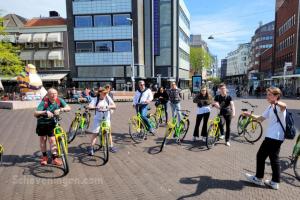 Explore the beautiful city of The Hague on a bike tour. Discover the Westbroekpark, Kurhaus of Scheveningen, and other landmarks with a energetic guide.
While rolling around town, your guide will show you the local treasures like Binnenhof, Noordeinde Palace, Peace Palace, and more. Hear about famous historical figures and architecture, as well as what is happening in the city.
Ride through the cobblestone streets and admire all the picturesque corners of the city.
Furthermore The Hague: Guided Sightseeing Tour by Bicycle is near the following sights: Hop-on Hop-off Tourist Tram (±125 m), Prison Gate (±225 m), Het Binnenhof (±400 m), Mauritshuis (±550 m) & Escher in Het Paleis (±700 m).
For information:
Book tickets online
Nobelstraat 2, Den Haag
web.
More information