Circustheater - Entertainment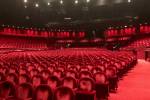 The Circus Theater has over 100 years of theatrical history, and nowadays it's in particularly famous for all its impressive musicals: the Circus Theater in The Hague (Scheveningen). This exceptional building has grown into an impressive and stylish venue over the years, which also perfectly lends itself for various other purposes during the day.
And these days the characteristic foyers are filled with visitors at least eight times a week, on their way to their seats in the theater. In the past 20 years legendary musicals attracted millions of visitors.
Furthermore Circustheater is near the following sights: Holland Casino Scheveningen (±175 m), Muzee Scheveningen (±250 m), Museum Beelden aan Zee (±300 m), LEGOLAND Discovery Center (±300 m) & Sea Life Scheveningen (±400 m).
For information:
Circusstraat 4, Den Haag
web.
Website
Location