Lighthouse Scheveningen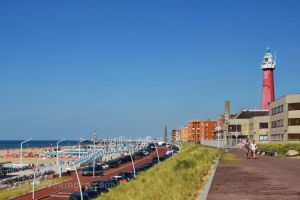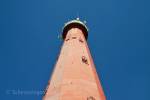 The lighthouse of Scheveningen was completed in 1875. The red twelve-sided cast iron tower has a height of 160 feet (49m), and a light range of 29 nautical miles (33 miles/53.5 kilometers). The tower bears the status of a national monument. The lighthouse is located at the end of the promenade near the harbor of Scheveningen and the fish auction market.
Characteristic
Name: Scheveningen
Built: 1875
Tower height: 30,0 m
Light height (above sea level): 49,0 m
Floors: 8
Stair treads: 159
Manned: No
Open to the public: No
Furthermore Lighthouse Scheveningen is near the following sights: Beginner's Surfing Lesson (±200 m), Go Fast - RIB Experience (±450 m), Scheveningen Marina (±900 m), Museum Beelden aan Zee (±1,0 km) & Muzee Scheveningen (±1,1 km).
For information:
Vuurtoren Scheveningen
Vuurtorenweg, Scheveningen
tel. +31 703 500 830
web.
Website