Mesdag Collectie - Museum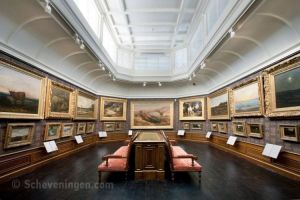 See masterpieces of art at the Mesdag Collection in The Hague and marvel at the private collection of Hendrik Willem Mesdag, a leading artist of The Hague School.
From the age of 35, Mesdag devoted himself to painting. The former businessman specialized in marine paintings and his famous "Panorama van Scheveningen" can be seen in Zeestraat, near the Mesdag Collection. His wife, Sientje Mesdag-van Houten was also an artist, mainly painting still lifes and landscapes.
Located in the former home and studio of the Mesdags, the museum of the Mesdag Collection has a vast array of paintings and objets d'art. It's also a venue for temporary exhibitions. Active in public life, the Mesdags performed key roles in The Hague art world. Hendrik chaired the artists' association of the Pulchri Studio, and also organized large-scale group exhibitions. Sientje was also active in the Pulchri Studio, and presided over the Onze Club (Our Club) of female artists.
From 1866, Hendrik and Sientje assembled a first-rate collection of paintings, drawings, ceramics and Japanese art. Within a few years it had taken on such proportions that in 1887 Mesdag had a museum built onto his house. It was only open on Sunday mornings, when Mesdag would show visitors around himself. He would present his and Sientje's studios for a peek inside their world. Now, you can follow in the footsteps of those visitors, but explore at your own pace.
Furthermore Mesdag Collectie is near the following sights: Museum voor communicatie (±250 m), Panorama Mesdag (±350 m), The Hague: Guided Sightseeing Tour by Bicycle (±1,0 km), Hop-on Hop-off Tourist Tram (±1,1 km) & Prison Gate (±1,1 km).
For information:
Book tickets online
Laan van Meerdervoort 7F, Den Haag
web.
More information