Go Fast - RIB Experience - Sport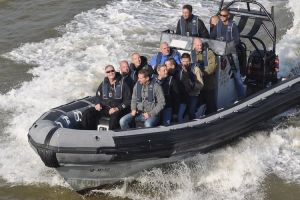 Feel the rush of a lifetime with Go Fast Scheveningen. Board a boat that can reach an amazing 100 km/h, made to maneuver across the ocean with seamless ease. The expert crew will give you a safety briefing, a life vest, and an adventure you won't want to forget anytime soon.
- Enjoy an aquatic adventure with some extra kick as you skim the waves on a rigid inflatable boat (RIB)
- Feel like a marine as you join a skilled captain, who'll make deft turns and bound over the water
- Put on your life vest and hold on tight as twin 250hp engines boost you around the North Sea
Enjoy the whip of the wind as you cut a path across the water, and take in the sights of The Hague in between twists and turns that will leave your stomach in knots.
Furthermore Go Fast - RIB Experience is near the following sights: Lighthouse Scheveningen (±450 m), Beginner's Surfing Lesson (±450 m), Scheveningen Marina (±500 m), Muzee Scheveningen (±1,3 km) & Fotomuseum Den Haag (±1,3 km).
For information:
Doctor Lelykade 24, Den Haag
web.
More information