Beginner's Surfing Lesson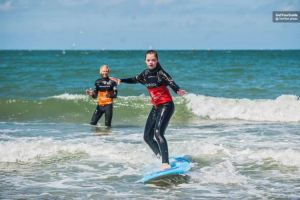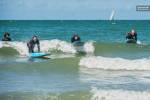 This fun, 2-hour beginner surf lesson in Scheveningen lets you experience the excitement of catching your first wave. All instructors are certified and can't wait to teach you the basics of this amazing sport.
If you've always wanted to try surfing but never have, this 2-hour beginner's lesson is the way to go! Gain an introduction to the world of surfing.
You will start the lesson on the beach in a small group setting of 6 students or less. Receive an explanation about how to stay safe in the water and several surf techniques, like how to safely go out in the water.
After this, you'll grab your surfboard and go in to actually try to catch some waves! You'll learn how to keep your board under control, how to read the waves and time your take off and how to catch your first wave.
You will be amazed by how easy, safe, and enjoyable it is to learn how to surf. Your instructors are fully-qualified, friendly, enthusiastic about their passion and all speak Dutch and English.
Furthermore Beginner's Surfing Lesson is near the following sights: Lighthouse Scheveningen (±200 m), Go Fast - RIB Experience (±450 m), Scheveningen Marina (±800 m), Museum Beelden aan Zee (±1,2 km) & Muzee Scheveningen (±1,3 km).
For information:
Book tickets online
Strandweg 3, Scheveningen
web.
More information